Campside Guide to Dutch Oven Cooking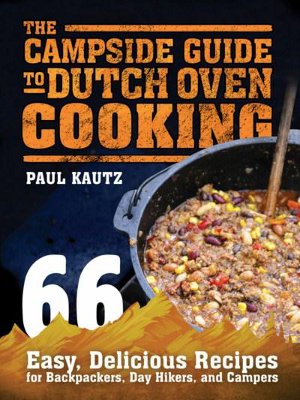 Easy, Delicious Recipes for Camp or Kitchen
The cast iron Dutch oven is a classic workhorse for any camp cook, perfect for whipping up one-pot meals for breakfast, dinner, desserts, and beyond. Shared here in this compact, ready-made guide are 66 recipes and accompanying color photos that provide a delicious springboard for the new outdoor cook to launch his efforts at keeping fellow campers happily fed in the wild.
In addition to detailed and flavorful recipes, The Campsite Guide to Dutch Oven Cooking includes helpful advice on heating for different cooking styles, maintaining even cooking temperatures, cleaning and protecting your Dutch oven, and even tips on choosing the Dutch oven that's right for you. Readers will also find cooking hints and a list of useful accessories to ensure you have all the skills and tools to cook many easy outdoor meals.
The recipes in this book are tasty and fun as presented, but readers should not limit themselves to use them exactly as they are written. Go ahead and swap nutmeg for cinnamon, exchange pork for beef, or replace cheddar with pepperjack - experiment!
The beauty of these recipes is the fact that they taste just as good when made in your kitchen at home as they do in the outdoors.
What Readers Say
I loved the McPancakes!
The photos really helped me see what I was shooting for when trying a new meal.
Follow Me

---