Book Signings and Presentations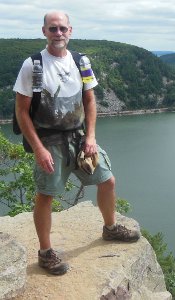 Much of my life has been spent interacting with children, and it is always a joyous challenge to progress through the steps of meeting, gaining trust, communicating, sharing, becoming friends, and then parting ways.
My volunteer experiences as a church youth leader, Cub Scout den leader, Boy Scout scoutmaster, Leave No Trace Master Educator, and elementary school helper, have provided many opportunities to talk with our amazing children. I understand that sitting and listening for long periods is no fun for anyone. I prefer to talk a bit, move a bit, chat a bit, play a bit, and change things as necessary to meet the needs of the audience.
Outdoor Ethics
Having grown up in the forested mountains of northern Idaho, and having walked thousands of miles across the country, I've seen what the wild places should be and what they are becoming. I am passionate about helping children understand that everything we do impacts our world.
Each short story in a Trail Tales book is perfect for a quick read to an audience, followed by lively discussion about the characters, their challenges, and our impacts. I add a fun activity or two to help us all understand a bit more about outdoor stewardship. We wrap up with questions from the participants.
Doing Anything
Children should believe that their dreams can come true. Whether author, singer, teacher, or marine biologist, children's passions help mold their life directions.
If you would like a less outdoors-oriented event, I share a short life history from my adventures as a boy in the mountains to becoming an author later in life. Through very short stories, we find out about my beliefs that:
Everyone wants to be something special, and they are
It's ok to change your mind many times and try many things
Volunteering to help others really helps you
I share what it's like being an author - what I find difficult, rewarding, and exciting. Through a couple activities, participants get to see that they have different things in common with different friends, and with people they don't know. Maybe even some of them want to be writers.
We wrap up with questions from the participants.
Schedule an Event
If you would like to host a book signing or interactive event at school, library, nature center or bookstore, books are available at a discounted rate for resale.
To schedule an author event, please email me. I look forward to hearing from you.
Follow Me

---