Arizona Trail Tales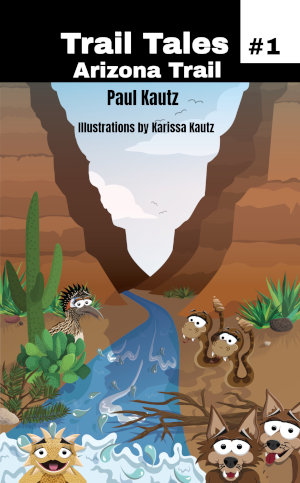 Trail Tales - Vol. I
Tales from the Arizona Trail
As Hiking Dude walks 800 miles from Mexico to Utah, across the deserts, mountains, and canyons of Arizona, he meets the most interesting of animals. Read how Hiking Dude helps his new friends out of tough situations, and keeps the wild places wild.
Wonderful illustrations, engaging text, and subtle lessons entertain readers along their own adventure of building a personal set of outdoor ethics.
The seven short stories in this book are simply fun to read, but the accompanying Things To Think About help readers consider how humans impact the natural world. These stories provide a starting place for parents, teachers, camp staff, and other youth mentors to engage children in a discussion of environmental stewardship.
What Readers Say
Rick P: Tess and Mason were ssssssssweet!
Allisa S: I liked the great illustrations. I want to be an artist.
Extra Book Resources
In every Trail Tales book, you will get
Top Secret Access
to lots of extra fun and information.
Things To Think About
Answers for the Things To Think About questions from each story, plus more Things To Think About questions to prompt extended discussion about the story.
Contest
Color a picture found in the back of each book and email a digital photo of it.
Three random winners will be chosen to receive a signed copy of my next book from all entries received every 6 months.
Enter Contest
Follow Me

---